Economist/Quantitative Specialist/Writer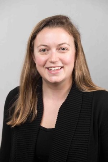 Kim Chase has over 10 years of experience working as an economist in the areas of research, quantitative analysis, and consulting. She holds a BA in economics and mathematics from Brandeis University and an MA with distinction in international economics and finance from the International Business School at Brandeis University.
As a principal economist with IHS Markit, Kim is responsible for maintaining macromodels and conducting scenario analyses. Previously, she was a global economist for the Global Market Intelligence team at GE and a senior economist with BBVA Research. In these positions, she has gained extensive experience analyzing and forecasting economic and financial trends and has contributed to regular corporate strategic planning efforts.
Much of Kim's professional work has involved economic and business writing, ranging from short daily briefs to long academic working/white papers. Building off of her on-the-job experience, Kim created a course, "Writing for Economics," which she currently teaches at Brandeis University.