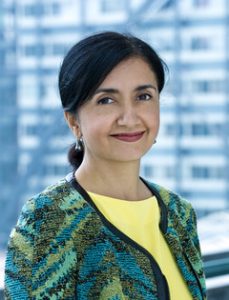 Mandeep K. Bains, Senior Economic Policy Consultant

Mandeep has a Master's in Public Policy from Princeton University, a Master's of Science in Economics from the University of Warwick (UK) and a Bachelor's of Science in Business Management from King's College London, University of London.
Mandeep has wide-ranging experience in economic and international development policy and the management of development assistance in several international organisations. At the European Bank for Reconstruction and Development, she contributed to the development of corporate policies and strategies and headed institutional relations with several other international organisations, including the multilateral development banks and the European Union. Previously, Mandeep spent several years at the European Commission, serving in both the economics and development Directorates General, as well as the private offices of two European Commissioners. She has also worked for the United Nations and the UK Department for International Development.
In her various professional positions, Mandeep has written and edited extensively. This includes drafting policy and briefing documents and negotiating text among several international institutions.